Simply put, CSPECS is the most powerful and easy-to-use product specification system developed for the AEC community. But how does it work? What benefits does it have that you haven't seen before? How can it make you more efficient as a specifier?  Read this intro blog and discover how CSPECS offered on the Kelley website can decrease project error and increase your chances of securing the job.
What problems do you face when tasked with creating a Submittal Package?
Researchers conducted surveys at the NIST (National Institute of Science and Technology) and concluded that up to 30% of each construction project is wasted due to inefficiencies and problematic areas in the flow of information. CSPECS looked directly at these problems and went about finding a solution. Up until now, the AEC community faced several obstacles when generating a submittal package. Things like hours spent gathering various product information, navigating from website to website leaves lots of room for error and wasted time.  The transfer of pertinent information during the design and planning phrase of any construction project is by far the most important step. If information is disconnected, lost or mistaken during this crucial stage the entire project could be jeopardized with a great loss of investment at stake.
How can Kelley and CSPECS help?
CSPECS has developed a system with the help of experts in the AEC field for Kelley's website. This system is a support tool for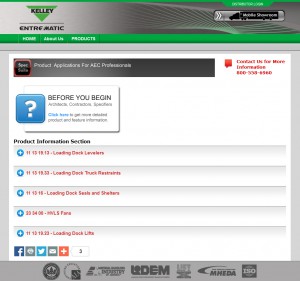 Architects, Engineers, Specifiers, Contractors, and even, Distributors. It supports this community by offering ONE place to go to find detailed product information and visuals so you can best determine what product suits your project, it also guides you through creating a 3 Part Guide Specification for the specific products you decide to use, and finally, it creates a Project-Specific Submittal Package that includes all of your product choices with the ability to share the submittal with colleagues and clients.
The clarity that this system creates generates a seamless flow of information and avoids costly mistakes. Ensuring that your Submittal Package is the most timely, efficient and cost effective solution in the pile!
CSPECS is available now on KelleyEntrematic.com.  For more information, contact us directly @ 1-800-558-6960
For more tips like this follow @4Frontes
Say hi to us on Google+