Sustainability is by no means a new concept; in fact it would be fair to say that this is a practice that is fast approaching the "norm" for most if not all companies. Sustainability goals for companies that operate in the manufacturing industry are just as pressing. But does sustainability mean the same thing as it did say even five or more years ago? The experts suggest that sustainability evolves just as business evolves. There is one variable that remains constant, that is the idea of saving energy. Facilities, across all continents are interested in saving energy. Join us as we take a look at energy saving loading docks and sustainability for the manufacturing world and offer some of the best ways to save energy at your facility today.
Sustainability in times gone past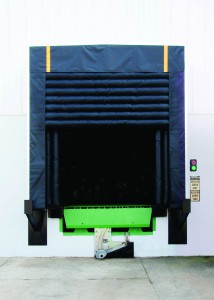 In the past, sustainability efforts were more closely met when retrofitting and green building design was focused more heavily on what additions could be added to existing equipment in order to make the facility operate in a more efficient way. In recent times, due mainly to the economic hardship spurred by the recession of late, sustainability somewhat fell off the radar for many companies. Not completely but it became less important, financial worries triumphed. Now though, more than in a long time, sustainability is fast becoming a paramount investment. The idea of saving energy is high on many initiatives because it saves on resources and it saves on costs. Take a look below for a great solution for enveloping your loading dock to achieve energy savings at your facility, it's working for others and it could work for you.
Envelope for ultimate savings
The concept of enveloping a building is a big one when it comes to sustainability, the goal is to wrap the building up (so-to-speak) keep the precious expensive energy inside, help it to remain constant, avoiding costly fluctuations. If done so correctly this can actually save up to 40% of buildings energy even on more established structures. When a building has a loading dock, there are hundreds (if not thousands) more gaps, holes and opportunities for air to escape. One way to increase the insulation value of a loading dock is by installing a dock seal.  The Kelley KI-450 is designed to "envelope" the back of an already docked trailer or container by inflating against the top and inward against the sides creating a tight seal to prevent the mass flow of cooled air out of the facility.  A blower assembly forces air through the header and side air chambers which instantly encases the trailer or container during loading and unloading to increase energy efficiency and help maintain a consistent dock temperature.
Interlocking and enveloping your way to energy savings
The Kelley inflatable dock shelter can be interlocked with other Kelley loading dock equipment meaning you can adjust the settings so that it only inflates under certain conditions such the dock door opening or the vehicle restraint being engaged with a parked trailer. Another cool feature of this inflatable shelter is its capability to accommodate a large variety of vehicle heights and sizes. The top seal is a roller design that automatically activates for lower or higher vehicles. So it basically follows all vertical movements of the docked vehicle that can be produced when a fork lift drives in and out of the back of the vehicle. This technology means you always have a consistent seal. And once the load is complete, the shelters' air chambers quickly return to the retracted position before the vehicle departs.
With enveloping being a major push in the sustainability movement, there is no better way to ensure your loading dock is saving energy than to envelope with a sturdy, durable inflatable shelter. Are you searching for a way to decrease your carbon footprint and increase your energy savings? Call one of our Loading Dock Experts today; we have a variety of solutions to share: 1-800-558-6960
For more tips like this follow @4Frontes
Say hi to us on Google+
Interested in technology? How about technology for this industry? Check out our new blog 4SIGHTInsight.com 4SIGHT is the intelligent software that powers iFAN!