Sometimes the perfect location for a business isn't the perfect location for a fully functioning loading dock that can service a variety of trailer heights. So what does one do when a perfect location presents loading issues such as tight spaces, constraining areas and limited ability to accept taller or lower trailer heights? You call Kelley of course! That's what one New England-based supermarket chain did and found themselves a versatile, cost-effective solution  to help them accommodate a variety of vehicle sizes for loading and unloading. Read to find out more:
Background
Market Basket is well known throughout New Hampshire and Massachusetts for their winning combination of low prices and well-merchandised stores that offer a large selection of products.  And thanks to this combination, the chain has been on an aggressive growth track over the past few years, opening up to five stores annually, with one of their more recent stores opening in Wilmington, MA.
Problem
Although the location was ideal for the new store because it was part of an existing shopping plaza, the property footprint was not optimal for shipping and receiving. The store was able to accommodate a loading dock for both dry grocery and frozen foods on its northern end, but not a dairy dock at the southern section. "The layout," pointed out Normand Martin, Market Basket's Director of Facilities and Planning, "meant that we couldn't dig down to create a driveway or pit for a standard loading dock."
A typical dairy dock sees almost every size and style of truck imaginable, from major dairy trailers to LTL deliveries by smaller trucks delivering gourmet cheese and other specialty products.  Some of the trucks are 48"off grade, while others are 24" off grade. They even see some trucks that require the driver to off load product one case at a time by hand.
Solution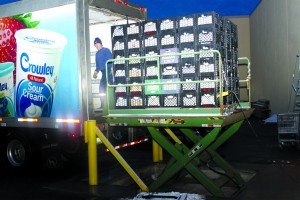 Thanks to the pit-mounted 6,000 lb. capacity of the HULK Hydraulic Dock Lift they are now all accessible. A truck can pull up to the lift and once the driver is out of the cab they raise the platform to the height of the truck floor. From there the driver moves the load onto the platform and then rides down to ground level where the product is moved into the store's backroom and to the dairy cooler.
End Result
The operator has full control over the dock lift motion with the pre-wired, NEMA-4X hand-held push-button controller.  The lift safely and smoothly lowers the platform to the ground without jostling the load. The dairy cases are then transported on dollies designed specifically for milk crates the short distance from the HULK's platform into the dairy coolers. This efficient operation means the driver can quickly get the dairy load off the truck, load on empty containers and move so the next truck can access the lift for unloading.
For more information or to read the full Market Basket please click here: