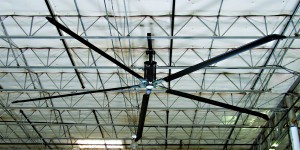 We are absolutely pumped about this announcement, it's a new HVLS fan featuring advanced technology to distribute more air than any other HVLS fan on the market. And it does this while using less energy than other HVLS fans.  It is the most significant innovation that the market has seen in years and is set to advance HVLS technology through its highly intelligent controls, increased airflow and superior energy efficiency.
What makes the WAVE innovative?
The KELLEY WAVE features an optimized five (5) blade profile which translates to greater airflow all while conserving energy consumption. The WAVE also offers improved controls technology to meet customers' unique needs, and a refined airfoil shape resulting in less drag which equates to greater circulation and employee comfort.  And its sophisticated frame cover adds to the aesthetics of both industrial and commercial spaces.
How do HVLS fans work?
The Kelley WAVE produces a massive, cylindrical column of air that flows down to the floor and outward in all directions, creating a horizontal floor jet that consistently circulates air in large spaces. This "horizontal floor jet" pushes air a greater distance before it is pulled back vertically toward the blades. The greater the down flow, the greater the air circulation and resulting benefits.  In the colder months, fans can be run in reverse to circulate the hot air trapped at ceiling level, known as "destratification".
Kelley WAVE fans don't just move air, they circulate efficiency and create a more even temperature, which in turn protects product integrity, avoids potential spoilage and increases employee comfort. And the even coverage provided by the WAVE fan also works to reduce moisture in the air keeping floors drier and safer for your employees.
If you have any questions about the Kelley WAVE fan and would prefer to speak with a Kelley representative directly please call 1-800-558-6960:
For more information like this follow @4Frontes
Say hi to us on Google+