AS promised, to all of our faithful readers who absolutely loved our seals and shelter series here is another little nugget of wisdom to keep you going.
As you may well know by now, Kelley, manufacturer's products for loading docks and one of these products happens to be the KI-450 air inflatable dock shelter, which provides an energy seal for climate-controlled loading docks.
What's really terrific about this product is the ability to interlock it with other Kelley loading dock equipment to ensure proper operational sequence while also increasing energy efficiency.
So why would you need a dock shelter that inflates?
Unlike the more traditional dock shelters, which require trailers to back through them in order to make a 'seal' this inflatable dock shelter is designed to "envelop" the back of a trailer that is already positioned at a loading dock. It works by inflating against the top and sides of the trailer creating a tight seal that prevents air from escaping out of the building and thus ensuring that 'cold storage facilities remain 'cool'.
Curious as to HOW it works?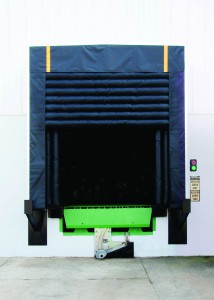 A blower assembly pushes air into the header and then the side chambers. This action causes the seal to increase in size and cushion around the trailer or container. This is exceptionally helpful during loading and unloading to increase energy efficiency and help maintain a consistent dock
temperature.
The KI-450 inflatable shelter has been designed and manufactured to accommodate a large variety of vehicle heights and sizes. The top seal is a roller design that automatically activates for lower or higher vehicles. In addition, it follows all vertical movements of the docked vehicle that are produced by a forklift driving in and out of the back of the vehicle to continuously provide a tight seal. Once the load is complete, the shelters' air chambers quickly return to the retracted position before the vehicle departs.
Design highlights include:
The standard air bag fabric is 10-ounce vinyl.
The standard side and head storage curtain fabric is 22-ounce vinyl and includes fiberglass stays.
The head storage curtain includes yellow guide stripes on 8-foot-6-inch centers.
The side curtains are 16 inches wide; the head curtain is 26 inches high at the peak of the head frame.
Frames are galvanized steel.
Kelley provides a catalog of loading dock solutions including dock levelers, vehicle restraints, dock seals and shelters, ergonomic lift products, environmental control systems, energy-efficient HVLS fans, and aftermarket dock accessories. The company is owned by 4Front Entrematic, which designs and manufactures truck and rail loading dock equipment for warehousing, manufacturing, retail and distribution center customers around the world.
With over 60 years of experience, we're here to answer any of your loading dock questions. Don't hesitate pick up the phone and give one of our Dock Experts a call today: 1-800-558-6960