Fall is such a beautiful time of year, leaves start to change colors, hats, scarves and warmer clothes gradually appear, and the year begins its final scene. It is also a perfect time of year to assess your loading dock to ensure that you are equipped for an energy efficient and productive winter. Easier said than done? Not really, take a look at these tips for bundling your loading dock up so your facility and your employees stay nice and snug when the temperatures really drop.
Let's work our way from the outside in.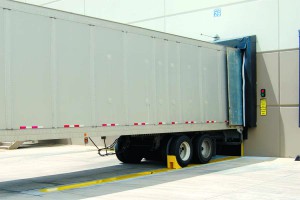 Restraining a vehicle at the loading dock is not only a smart safety measure to avoid costly mishaps, like early departure, but they can also help keep trailers snug against the dock to help prevent energy gaps. There are a variety of restraints available but an In-Ground Wheel Restraint is ideal for colder climates that receive snowfall. The AUTO CHOCK™ In-Ground Wheel Restraint provides continuous restraining force to the wheel being chocked and therefor prevents trailer movement away from the dock. It's permanently installed and flush with the ground so it doesn't obstruct snow ploughs or drive clean-up.
Next turn around and look at the face of the dock.
When it's cold outside and you want your facility to remain warm, dry, and comfortable for your employee's there is no better way to achieve this at the loading dock than by installing a dock seal or a shelter. If you receive a lot of different sized trailers at your dock than most likely a shelter would be the best choice. However, a seal provides the ultimate energy protection. When a trailer backs into a seal it compresses it and creates a consistent seal around the perimeter of the opening. This helps maintain energy-efficiency during loading/unloading at the dock. Sometimes we want the best of both worlds and that exactly what you get with the V-Seal® VS Foam Dock Seal with Head Pad This seal is in a word, versatile! Even if a trailer backs in off-center, you still get a consistent seal and that is because of the V-Seal's unique design. The head pad on this seal compresses along the top edge of the trailer and the side pads seal the hinge air gap which means you have FULL access to the back of trailer during loading/unloading.
Let's go inside the facility to get warm.
The Kelley FUSION HVLS fan, the fan that leads the industry in energy efficiency, is also an extremely useful piece of equipment during the colder months. This fan moves massive amounts of air and it can run in reverse to force warm air trapped at the ceiling of your facility down toward workers on the floor to create a far more comfortable environment. This process ofequalizing the air inside the facility is called destratifcation.
Kelley offers customers a variety of energy-efficient ways to outfit their facilities for colder temperatures. Don't let rain, snow or icy-conditions hinder your business objectives, be proactive invest in equipment that will protect your assets and increase your productivity levels.
With over 60 years of experience, we're here to answer any of your loading dock questions. Don't hesitate pick up the phone and give one of our Dock Experts a call today:  1-800-558-6960