So you have a HVAC unit that works… okay? The problem is you don't want to go out and spend thousands of dollars on an entirely new HVAC unit. Let's be honest the only serious cash you had planned on dropping in December is on Christmas gifts for your loved ones. Well in that case, we have a terrific solution for you. A HVLS fan such as the FUSION which (toot-toot) is leading the industry in energy efficiency is the ideal way to add some energy-savings through integration. Read on to find out how you can add some holiday cheer to your facility by circulating comfort and savings this holiday season.
First things first, what is a HVLS fan?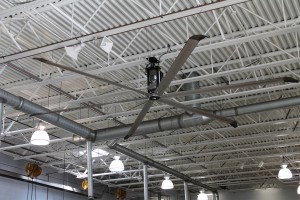 The Kelley FUSION HVLS large fan is designed to create a comfortable environment in any large space. It maintains an energy efficient facility when used in addition to a HVAC system. These fans are available in a wide range of sizes and power configurations that are suitable for just about any environment, from warehouses to manufacturing facilities and more. The light-weight, high grade anodized, single piece aluminum blades of the Kelley fan produces a massive column of air that flows down toward the floor and outward in all directions before it is pulled back vertically toward the blades. This creates what is known as a horizontal floor jet. The Kelley FUSION fan is leading the industry due to its exceptional energy-efficiency and considering how important saving energy is these days…its well worth the look.
So how does it increase your savings when integrated with your HVAC system?
As we mentioned the breeze that the FUSION HVLS Fan creates is known as the horizontal floor jet.  It's this 'floor jet' that produces the circulation which provides the benefits Kelley fans have become known for over the years. By creating this consistent slow moving breeze at 2 to 3 miles per hour, many facilities have reported a reduction in perceived temperature equivalent to 7 to 11-degrees. With more balanced, consistent temperatures circulating in your facility, you can actually reduce you thermostat, which, in a large facility, saves you big time!!
Step up a notch on air circulation and energy-savings.
In addition to installing the Kelley FUSION fans, you can install some fan automation to give you ultimate fan control and open the door for some serious savings. iFAN, the best in class industrial networked fan system automates the control of your fans…hello! Did I happen to mention automates! Yes this system allows you to network your fans and control them from a single, centralized or remote interface.  If you like doing other 'more important' stuff when you are at work, trust iFAN to ensure you receive maximum levels of performance and energy savings from your HVLS FUSION fans.
Who doesn't like something that just makes life better?
For more tips like this follow @4Frontes
Say hi to us on Google+
Oh and if you're interested in technology and specifically technology for this industry check out our new blog 4SIGHTInsight.com 4SIGHT is the intelligent software that powers iFAN!
Are you searching for a way to decrease your carbon footprint? Call one of our Loading Dock Experts today; we have a variety of solutions to share: 1-800-558-6960