Leadership in Energy and Environmental Design (LEED) consists of a suite of rating systems for the design, construction and operation of high performance green buildings, homes and neighborhoods. Developed by the U.S. Green Building Council (USGBC) in 1998, LEED is intended to provide building owners and operators a concise framework for identifying and implementing practical and measurable green building design, construction, operations and maintenance solutions. U.S. Green Building Council has grown to encompass more than 7,000 projects in the United States and 30 countries.
Going green feels cool.  HVLS big fans are a great addition to any large facility or warehouse setting.  They move air efficiently to keep employees comfortable and productive and are an energy efficient supplement to expensive HVAC systems and also better an effective and affordable alternative to NO HVAC system.  The Kelley WAVE™ HVLS fan creates a slow moving massive column of air, creating a deep horizontal floor jet that circulates the air in large spaces.
The gentle, non-disruptive breeze created by Kelley's big fans breaks the moisture-saturated boundary layer on the skin, providing a 7-11 degree cooling sensation.  These fans include patented components designed to maximize the fan's effectiveness, and can also contribute to LEED certification credits in several categories; including:  Energy and Atmosphere, Indoor Environmental Quality, as well as Innovation and Design.
LEEDing the way through fan controls.  iFAN™ is designed to provide facilities the option of networking their HVLS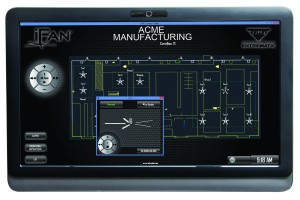 industrial fans and controlling them from a centralized location to ensure maximum performance, functionality and energy savings from your HVLS warehouse fans.
A single iFAN system can accommodate up to 30 networked HVLS warehouse fans per configuration, and in many cases additional fans can be included depending on the application.  The fans are networked to a 23-inch touch screen computer, complete with custom graphics representing the facility's exact fan layout.  This screen allows administrators to control fans individually, by zone and for the entire facility.   iFAN allows HVLS warehouse fans to be monitored and controlled by time settings, temperature settings or temperature variance. The system can also display a variety of tailored performance metrics for individual fans, a particular zone or the entire facility that can be archived and viewed later for trend analysis to help keep your credits on track.
Getting sustainability up-right.  Kelley's Vertical Storing Leveler (VSL) can be utilized with a dock configuration that allows facilities to open truck trailer doors into the building.   That enables trailers with hinged doors to back into a dock with the doors closed, instead of being opened by the driver before the trailer pulls into position. This special dock configuration offers facilities the ability to save money through lower energy bills as a result of increased energy efficiency.
However, the vertical leveler alone does not completely prevent energy loss; it provides facilities with the opportunity to save energy by removing the gaps created by a traditional pit style dock leveler.  It is the combination of the vertical storing leveler and a high-quality dock door that creates energy savings by completely sealing the building envelope.
TKO will let you take the credit.  Recognizing the need for an effective door that is not cost-prohibitive, TKO Dock Doors created the VertiCool door, the only door specifically designed for use with vertical storing dock levelers.
The VertiCool door incorporates 4" thick closed-cell XEPS foam panels, rated R-23, and is typically used to prevent energy loss on chilled docks. The VertiCool has heavy-duty, full door height polymer thermal-break track wrapped with energy reflective foil fabric to prevent heat transmission that can occur with conventional metal tracks.
LEED your loading dock to a more profitable and energy efficient future by implementing smart equipment that will sustain energy usage and help you save on utility bills.